ADVANCED SERVICES
With our dedicated network equipment, you can be rest assured the unexpected is a thing of the past.
For the most optimized control and predictable performance, using high-quality hardware is your best solution. Having the combination of High-quality switches, load balancers, and firewalls enables you to monitor and optimize network traffic to improve the end users experience.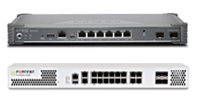 Dedicated Network Equipment
Take advantage of our Dedicated Firewalls and strengthen your network security by reducing or blocking unwanted traffic. Increase the performance and maximize your network and applications through our Dedicated Switches and Dedicated Load Balancers.
[Firewall] Netscreen 208
$100

/ month

Interface 8 x 10/100 Ethernet ports
2 x WAN Ports
UI based web
Firewall performace 375Mbps
3DES + SHA-1 performance 175Mbps
Concurrent VPN tunnels 500
Concurrent sessions 128,000
New sessions/second 11500
Maximum security polices 4,000
VLANs supported 32
[UTM] Fortigate 60E
$200

/ month

7 x GE Internal Ports
2 x WAN Ports
1 x DMZ Ports
1 x USB Port
Firewall Throughput 3Gbps
IPS Throughput 400Mbps
IPsec VPN Throughput (512 byte) 2Gbps
SSL-VPN Throughput 150Mbps
Firewall Policies 5,000
Concurrent Sessions (TCP) 1.3 Million
[L4/L7] F5 BIG-IP 3600
$300

/ month

Processor: Dual core CPU
Memory: 4 GB
Hard Drive: 500 GB
Gigabit Ethernet Ports 8
SFP Port 2
L7 requests per second 135K
L4 connections per second 115K
L4/L7 Throughput 2 Gbps
Hardware SSL 500 TPS
Software Compression 50 Mbps(Max 1G)